How AxFlow beat expectations
A broad strategic perspective enabled business group Fluid Handling Solutions (AxFlow) to take new market shares in 2020.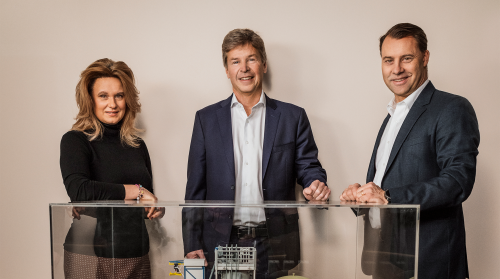 How did 2020 turn out for AxFlow?
"With our strong local teams working closely with the customers and providing good service levels, we did better than expected. We were down organically on order intake but only by little, so we made a great result and have been able to take market shares in many of our 30 markets," explains Ole Weiner, Managing Director.
We have a broad strategic perspective and are strong in many segments.
Ole Weiner, Managing Director
What were the main reasons for your good performance?
‍ "We have a broad strategic perspective and are strong in many segments. That helps when one segment goes down, another does better – in 2020 the food sector was very strong," says Ole.

"In addition, we managed to stay focused on the customers. Our local teams did an excellent job adapting to new ways of working very quickly. The digital transformation has already been on the way, but we've accellerated the process this past year. It allowed us to keep communicating with our customers and that's been a key," says Olga Krejci, Marketing and Communications Director.

"Another important factor is our European distribution centre in the Netherlands. We've managed to maintain a high stock level which has allowed us to deliver without any major disruptions to the supply chain. Our safety stock and our ability to deliver within just 24 hours are really appreciated by our customers," says Ole.
‍
"And finally, we've been good at keeping our excellent team together and developing them."

You expanded your product portfolio in 2020, tell us more.
‍"One of our strategic growth areas is to be the best in service in all our fields. We've invested in acquiring service companies, to bring them together with our sales and engineering teams and become really strong in the service area," says David Lindquist, Business Development Manager.

"We've also broadened our portfolio of world-leading valve brands, which has been a strength this past year as many customers want to reduce the number of suppliers," says David.

"Three acquisitions were made in late 2020. One is New Zealand based SPX Flow Technology, a company that gives us the whole portfolio. We also acquired Armor Bobinage, a French service company with a strong footprint in the food sector. Our third acquisition was the Austrian service and pump distribution company Tuma, which adds a lot of good products, good engineering capabilities and a good service and sales team," says Ole.

What do you expect from 2021?
"It looks promising. The strategic focus on growth to further strengthen our group will continue. We'll focus on integrating our newly acquired companies, and with several interesting acquisition prospects in the pipeline, we hope to add a number of new companies to the group," Ole ends.