Valentina Cristea: Winner of Axlab 2020
Axlab is a 48-hour innovation competition for all employees ­within the Axel Johnson Group. This year's Axlab was tougher than ever, with 781 ideas submitted. Valentina Cristea's winning entry – a QR code for AxFlow's industrial pumping equipment – stood out from the rest. It is a sustainable and ingenious idea that will create added value for our customers.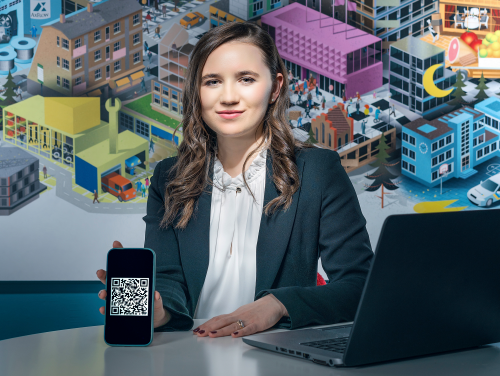 Valentina, who is a Marketing and After Sales Manager for AxFlow in Italy, came up with the idea in February 2020 when she was looking for a solution to a common customer problem.

It is a simple but very clever concept: a QR code is created and added to the nameplate of equipment sold by AxFlow, such as pumps, valves etc. This code links to the individual product's instruction operating manual, giving field service engineers instant access to cross-sectional drawings, parts lists and technical information via their smartphone.

"Our After Sales department often receive emails from customers saying that they've lost the paper manual for a piece of equipment. They ask us to send the manual and drawings to identify the correct spare part code. It came to me naturally one day that a QR Code would be a paper-free, low-cost and time-saving solution that would also keep AxFlow offering a high level and valuable service to our customers, ensuring their processes keep running," she explains.
The group puts peoples' development at the top of their priorities.
When the Axlab competition opened the registration for innovations, she submitted her QR code idea and it progressed to the final stages in March. Together with ten other finalists she presented her idea to the 'Dragon's Den', a jury that included Mia Brunell Livfors, President and CEO of Axel Johnson AB, Martin Malmvik, CEO of Axel Johnson International, and CEOs and CFOs from the various business units in the group. After all the presentations and the jury's deliberations, Valentina was announced as the winner of Axlab 2020.

"The final was in the middle of the lockdown period, so it took place digitally, and it was a completely different Axlab that we all for sure will remember. It felt great to get this huge opportunity to present my idea in front of the 'Dragon's Den'. I believe that the deep insight I've gained from my experience in aftersales helped me to answer the judges' tough questions successfully," says Valentina.

"It's very inspiring that through this innovation competition our ideas can become reality. Everyone can influence what the business will look like in the future. That's extraordinary. Who wouldn't join a group that gives a voice to their employees?"
The QR code is now in the concept development stage with analyses and investment calculations, while Valentina, a member of Axel Johnson International's Talent Acceleration Programme, looks set to continue her impressive career progress.

"I feel very proud to be part of this organisation," she says. "The group puts peoples' development at the top of their priorities."