CheMS™ Modular Chemical Mixing Skids
AxFlow Latvia design and manufactures chemical mixing systems for wide range of applications.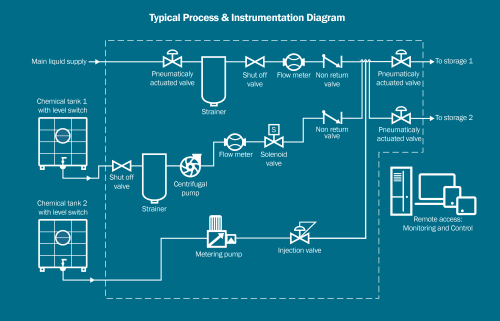 The essence of CheMS™ series system is to precisely maintain recipe for preset liquid volume.
On a basis of particular task and received process information, mixing of liquid chemicals is driven by industrial PLC. CheMS™ system is adapted for specific application thus ensuring system reliability, long lifespan and traceability. Systems could be assembled from ATEX listed components that are approved for use in hazardous area locations.
CheMS™ DESIGN FEATURES
High accuracy, repeatability and reliability.
Liquid preparation over technological process.
Multiple recipes in single skid.
System extension capabilities by adding new recipes.
Wide system arrangement variations depending on application and location.
Multiple flow meter options.
Wide pump type range options.
CheMS™ STANDARD COMPONENTS
Siemens SITRANS FM100 flow meter
Siemens 1200 series PLC
Siemens electrical components
Closed type skid in PPE
Modules in Heavy duty Zinc coated or pulverized steel frames.