The end user is one of the world's largest fields with recoverable crude of volume of between six and nine billion barrels. The crude oil contains a high concentration of hydrogen sulphide and has a viscosity of 0, 81 – 1, 26 cP and an average temperature of 45°C. However, the plant experiences temperatures that can range from -36°C to +45°C, making it necessary for fluid handling systems to be capable of operating effectively right across this temperature spectrum. To withstand the harsh winter conditions, all of the pumps have been winterized.
What has made this project particularly special for AxFlow Spain was IDESA's request for gear pumps fully compliant with API 676, plus API 682 mechanical seals and satisfying NACE MR0175/ISO 15156 (H2S = 400 ppm)requirements and ATEX: Zone 2 IIB T3. "Our customer had specific demands for the four pumps and we responded by quoting them two Viking pump options; an API 676 pump fully compliant (Series 4223 AX,) and a model with deviations from API 676 (Series 4223 A),"reports Luis Miguel Mellado, AxFlow S.A. Viking Product Manager.
Viking answers the call of duty
"We supplied the API 676 deviation list for Viking pumps to both our customer and the end user to check the differences between all the options, these being the A, AA & AX models. The pump finally specified for each skid was the Viking internal gear HL-4223AX fitted with Flowserve's ISC2PX-682 cartridge seal (API 682)," explains Luis Miguel Mellado.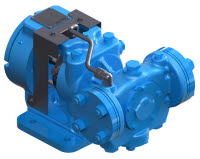 Crude Shipment Capacity Project
For the Project, all four pumps will be used to draw crude from one sample line at any particular time and then circulate it back into the tank via the return nozzle. The process lasts approximately one minute. This procedure will ensure that the crude oil which had been in the sample line has all been circulated back into the tank. The sample line should then contain a true sample of the current tank contents. After circulation a sample may be taken from inside the Sample Box. Any spillage is contained within this Sample Box and it may be pumped back into the tank using the sampling package pump.
AxFlow Spain has sold a large number of Viking pumps for many different oil and gas applications, but this was the first time it has sold full compliance API 676 pumps. "We have never worked with IDESA before, but through hard work with this customer and their end user we secured the contract," reports Lorena Martin, sales responsible for this project. "We were able to overcome any doubts that they may have had concerning specific issues such as the pump package design, including the pumps motors, baseplate and special paint finishes. Most importantly we were able to deliver a package that was fully compliant with the end-user's specifications."