Sanitary Valves and Pumps for quick delivery
Are you in urgent need of a sanitary pumps or valves?
AXFLOW CURRENTLY STOCKS PUMPS AND VALVES FROM APV! DELIVERY WITHIN 2 DAYS FROM OUR MAIN WAREHOUSE IN HOLLAND.
DO YOU USE THE RIGHT PUMP, OR THE ONE YOU'VE ALWAYS USED?
Viscosity, particles, temperature, concentration, density, capacity, pH, NPSH, total counterpressure and more parameters are needed to determine the right pump for your process.
WE AT AXFLOW ARE EXPERTS AT JUST THAT! CALL US DIRECTLY AT OUR DUBLIN OFFICE 01 – 882 9864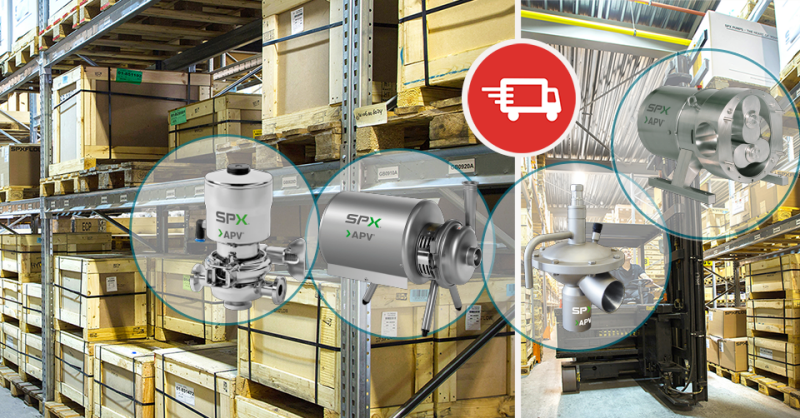 APV HAS THE PERFECT PUMP FOR HYGIENIC APPLICATIONS
The APV centrifugal and rotary lobe pumps are intended for use in Food production, Beverage & Pharmaceutical / BioPharma Industries. They are completely hygienic and ideal for use in Dairy production such as Yogurt with berries plus Pharmaceutical & Cosmetic applications such as Pill Pastes, Syrups, Extracts, Slurries, Face Cream & Lotions, Hair Styling Gels / Liquids & Dyes. They have 3-A, EHEDG certificates and meet EC 1935/2004.
APV VALVES COVERING ANY NEED YOU MAY HAVE
Including Butterfly, Single Seat, Mixproof, Ball, Aseptic, Regulating and Process Valves. Built to the highest hygienic and aseptic standards and designed for CIP use. Ehedg, 3A, PMO & FDA approved APV Valves are modular, adaptable & easy to maintain. Control unit options include Direct Connect, AS Interface, Valve-Net DeviceNet, Valve-Net Profibus.