AxFlow are experts at supply new and repairing old pumps in dock applications.
Description
AxFlow can offer a range of axial flow, mixed flow pumps as either fully submersible or line shaft variants for dock dewatering and impounding applications. AxFlow's experience in the offshore market and history of large pump repairs in this sector make us particularly skilled at dock pumping applications.
Due to our large choice of pump types, AxFlow are able to offer pumps for use in docks with flows up to 144,000 m3/hr and heads of well over 200 m. Pumps can be manufactured in materials including Cast Iron, Bronze, Stainless Steel, Duplex and Super Duplex.
Allen Gwynes Axial Flow Pump repairs
Repair of Allen Gwynnes 18/18/15.25 Axial Flow Pumps.
Read more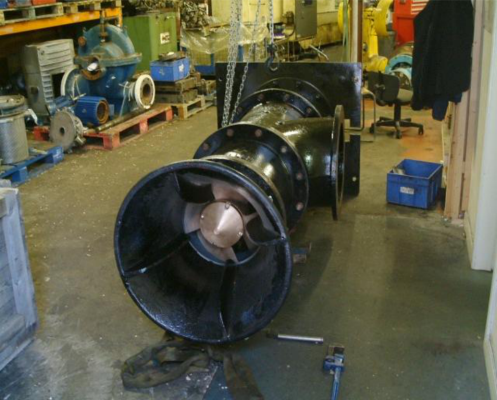 Refurb of 4 Allen Gwynnes Vertical Mixed Flow
The removal, repair and re-install of 4 Allen Qwynes pumps originally installed in 1949.
Read more