Hygienic and Sanitary Pump Repair
AxFlow UK are leaders in hygienic and sanitary pumps repair in the food and beverage industry.

Why Use AxFlow For Hygienic Pump Repair
AxFlow is one of the leading repairers of hygienic and sanitary pumps in the UK, this market-leading position has been attained as we:
Are the largest supplier of positive displacement pumps in the UK.
Have supplied the food and beverage industry for over 50 years.
Boast dedicated hygienic pump assembly areas.
Utilize specific sanitary pump repair and servicing procedures.
Hold stocks of many components.
Use original parts.
Offer a collection and delivery service.
Test every pump we repair or service.
AxFlow's Hygienic Pump Repair Process
We can then re-install your sanitary pumps and visit you to review your pumps and monitor them so you can avoid any unpleasant surprises in the future.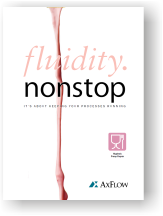 Hygienic Pump Design
The food industry is extensively regulated and at AxFlow UK, we ensure to offer the best approved equipment to you and your business. Please find our overview of the different hygienic approval...
read more about hygienic pump design