Test facilities at Safe Supply | Member of AxFlow Group in Stavanger area
The test facilities can be adjusted for most centrifugal pumps and test according to NORSOK, ISO and API demands.

Test facilities at safe supply in sandnes
Performance testing fluid handling equipment prior to commissioning is a prerequisite of many commercial contracts. For many equipment manufacturers and suppliers being able to provide such facilities is not always a viable proposition, making it necessary to access the capabilities of those organisations that provide suitable engineering resources on a commercial basis.
Being a significant supplier of pumps and associated equipment for the offshore oil and gas sector OE Solutions and Safe Supply, part of AxFlow Norway, have invested in test facilities at the AxFlow Stavanger plant that cater not only for its own requirements but also for many other companies. As a result businesses that need to replicate operating conditions for equipment installed both in their own and customers' plants can make use of AxFlow's test centre. The focal point of the test centre is a purpose-built pump test rig. The rig has a 45,000 litre tank, a choice of 4 and 8-inch inlets, flow meter and a pressure transmitter for simulating the head by closing the valve to the required pressure.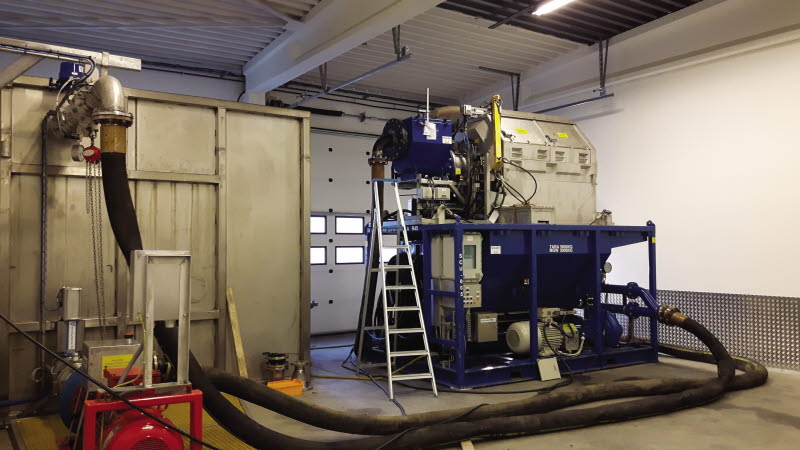 The140kW rig can accommodate a wide range of low pressure pumps up to maximum pressure of 16 bar, and can deliver flows up to 600m³/hr. Stian Rossavik says that about 60 tests at full duty point in accordance with API, ISO, NORSOK regulations are undertaken each year, there is plenty of capacity to increase throughput. If there is a requirement the test centre can also undertake smaller batches for pumps handling other fluids, such as muds and slurries in order to satisfy customers' needs. "The test facility is a major resource that complements our pump sales, engineering, spare parts stockholding and service facilities," says Stian Rossavik. "The most recent development has been an upgrading on our swarf handling unit. Designed to remove swarf and other debris from fluids during milling operation, the upgrade has led to a 34% increase in flow."
Taking advantage
Two of the companies that have taken advantage of AxFlow's knowledge of pumps for the offshore sector and its test rig this capability are EnergyX in Ålgård and Roxel Promech in Stavanger.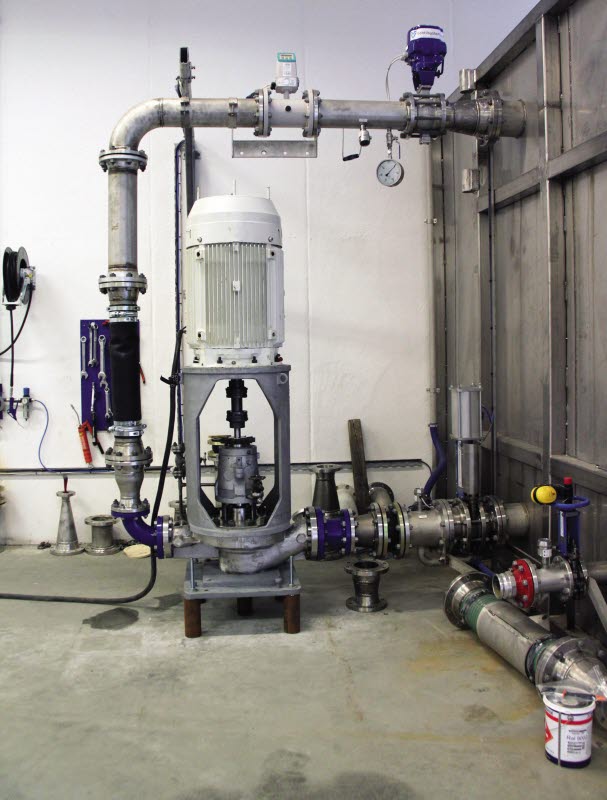 EnergyX designs, manufactures and supplies advanced equipment for the oil and gas industry. It provides co-operation between multidisciplinary service companies, ensuring that any challenge can be solved in-house. Its test facilities at Ålgård are capable of replicating scenarios that any subsea product may encounter. In co-operation with Norway Energy & Drilling Center AS (NEDC AS) it has designed and constructed a state of the art drilling rig (X-rig) that enables the company to perform down-hole testing in a wellbore using the same top-site equipment employed in the field.
An essential element of this testing rig is the ability to pump water and muds at high pressures, and it is for these activities that AxFlow Norway has brought its pumping expertise. The water supply to the rig involves two 900hp triplex plunger pumps delivering water at flows of up to 3600lt/min when both are running. Oil-base mud is pumped into the drill bit using Badger pumps fitted with 11" diameter open impellers. The Badger pumps were specified by AxFlow as they are designed for handling viscous and abrasive liquids.
"The mud is pumped down the drill hole to the drill bit where it stabilises the hole around the drill bit," explains Stian Rossavik. "The mud is returned up the hole into the rig where it is separated from the drill cuttings and the mud is pumped back into the well. It is a demanding role, which is why we recommended this type of pump." The Badger pump typically operates at 1,600 lt/min, but it can go up to 2000lt/min if required. The pump speed is controlled by frequency inverter and the daily throughput is one million litres of mud per day.
The rig is 23m high and has been developed not just for drilling, but also for helping to repair and stabilise old wells. It can drill out old plugs and waste and then allow a replacement plug to be inserted. Many wells built over 30 years ago are plugged and now can be subject to leakage. The rig has been constructed in such a way that it can be dismantled for removal to other sites for equipment testing and drilling, and being an integral element, the pumps go with the rig.
Roxel Promech is much closer to AxFlow in terms of its business, being a provider of pump repair and services for various pump types and brands. Its service centre in Stavanger, offer a complete range of advanced technical services for the upgrade and refurbishment of pumps. What it does not have are the facilities to undertake the testing of refurbished pumps before they are returned to customers, and this is why they turn to AxFlow.
Roxel Promech's main approach to pump refurbishment is product and process improvement, in other words seeking ways to bring down the total whole life operating cost. "We tailor maintenance services to customers' individual needs with the focus on contract maintenance and predictive maintenance agreements," explains Dagfinn Kramer, Operation Manager. "Being a small organisation made up of highly qualified engineers we are very flexible and able to respond quickly, unlike much larger organisations. Roxel Promech is a repair and re-engineering facility, but it has a requirement to outsource its equipment testing requirements. AxFlow is our preferred supplier as it has a high reputation for engineering excellence and it is well respected within the offshore industry. Also, its test centre is very close to our base."
Working with AxFlow provides Roxel Promech with an additional level of capability that gives the company a competitive edge when it comes to pump refurbishment. "Once a pump has been repaired or refurbished, function testing can be carried out at AxFlow's premises," continues Dagfinn Kramer. "It is a facility that we at Roxel Promech are keen to promote to our customers as the AxFlow name has considerable kudos within the markets that both of our companies serve."
Text: Anette Arntzen, Bryan Orchard

Bilder: Safe Supply AS