System Cleaners provide all segments in the food and beverage industry with state-of-the-art manual and automated cleaning solutions that enable manufacturers to maintain a high level of hygiene and food safety in their processing facilities.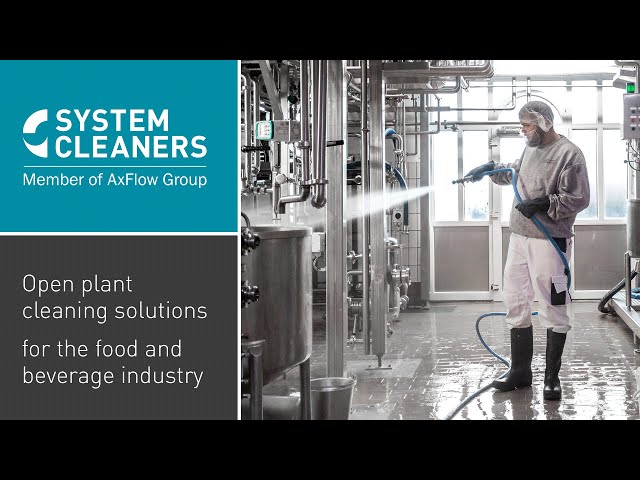 A System Cleaners solution has multiple benefits:
Optimization of food safety and hygiene
Reduced cleaning time → increased production time → increased output
Reduced water and chemical consumption and overall operational costs
Increased workplace health and safety
Extended product quality and shelf-life
Best technology for cleaning surfaces: low-pressure with boosted water (up to 20-25 bar)
Standard and customized solutions based on modular elements combined to match individual needs
System Cleaners has more than three decades of experience in designing and manufacturing open plant cleaning solutions, assisting multinational top brands in their efforts to achieve a high level of food safety and product quality.
The product portfolio ranges from simple, manual workstations to large, automated system for process equipment. Common to all is ease of use, durability, and a long product life cycle.
Workstations
The workstation is where the job is done: Rinsing, applying foam and disinfecting is controlled here – either manually or automatically.
No matter what cleaning solution you choose for your processing plant, you will be able to find a workstation matching your requirements in terms of functionalities and number of chemicals.
Supply stations
A reliable and constant supply of boosted water and prediluted chemicals is essential in retaining a high level of food safety and hygiene in the food and beverage industry. The System Cleaners range of supply stations provides many possibilities enabling you to find the solution that matches your requirements in terms of pressure, number of users, functionalities and so on.
The supply stations can be applied in manual as well as automated cleaning solutions.
Combined work & supply stations
With a combined work- and supply station, you will get an independent cleaning unit serving as both workstation and supply station. It features an integrated pump for boosting the water and available for manual, automated and mobile cleaning solutions.
Accessories
Food grade hoses, hose holders and reels, guns and valves, controller and much more. System Cleaners offers a wide range of accessories for your cleaning processes.