Which industries are the APV prominent in?
The APV brand is addressing the food/beverage, dairy, pharmaceutical and chemical applications. APV offers highly effective turnkey automation and process engineering solutions. These industrial solutions combine the extensive array of heat exchangers (for evaporation, pasteurization and UHT), rotary lobe pumps and centrifugal pumps, various types of hygienic valves, mixers and homogenizers that are manufactured with numerous services which will maximize the system efficiency throughout the whole life-span. These services cover original system inception, equipment deployment, upgrades and eventual decommissioning, as well as plant optimization for hygienic production processes.
Why buy APV products from AxFlow?
APV industrial process solutions are leaders in operational performance and consistency. Beyond performance, APV aftermarket services are integrated to establish safety and efficiency offered by AxFlow.
The AxFlow offering consists of APV pumps, both rotary lobe pumps and centrifugal pumps, plate heat exchangers and tubular heat exchangers, scraped surface heat exchangers, in-line mixers and valves of mixproof, regulating, butterfly, single seat and aseptic valve types.
THE APV OFFERING BY AXFLOW
APV CENTRIFUGAL PUMPS


The APV W+ series (IEC) and APV Puma+ industrial pump series are both intended for hygienic applications such as food & beverage segment including dairy, bakery & confectionary and brewing applications and comply with the strict hygienic standards of the industry. W+ is a comprehensive range of premium sanitary end-suction centrifugal pumps designed with maximum operating benefits and minimal life cycle costs in mind. APV W+ features a reliable and heavy duty design, energy efficient operation and quiet performance with minimal vibration. The W+ also comes in a Pharma Model, meeting the extremely stringent requirements of the pharmaceutical and biotech industries, fit for the ultra-hygienic operation. This model is designed for excellent reliability, gentle product handling, high efficiency and low NPSHr, making it ideal for a wide range of pharmaceutical processes, such as producing water for injection, purified water and de-mineralized water. High efficiency impellers equipped with the patented APV spiral volute on their backplate ensures maximum efficiency, gentle product handling with direct liquid transfer from inlet to outlet.
APV ROTARY LOBE PUMPS
APV DW series is a rotary lobe pump with high volumetric efficiency and versatility. The models are hygienic, 3-A and EHEDG approved and cover all requirements from 3 litres /100 revs to 1016/100 revs. Maximum pressure up to 435 psi (30 bar.) All product contact parts are AISI 316L stainless steel and elastomers comply with FDA-requirements. It has a high volumetric efficiency- The DW model range is designed according to the principle: 'More pump for your money'. Internal clearances have been minimized making the pump so efficient that in medium viscosity applications, a smaller pump size than usual will do the job. This reduces initial investment, plant footprint and running costs.
APV VALVES - LOOKING FOR BUTTERFLY, REGULATING, SINGLE SEAT, ASEPTIC OR MIXPROOF?

Whatever kind of valve you are looking for AxFlow can help you. Your process needs to decide! Manual or pneumatic actuation, robust & reliable space saving design makes APV valves prove themselves ideal for nearly any kind of application. Important for your process is that the processed media can make passage smoothly and that thorough cleaning is ensured through special, high quality seals. The hygienic valve design makes these products ideal for applications in dairy, processed foods, beverage, brewery and chemical industries. Built to the highest hygienic and aseptic standards and designed for CIP use. Ehedg, 3A, PMO & FDA approved APV Valves are modular, adaptable & easy to maintain. Control unit options include Direct Connect, AS Interface, Valve-Net DeviceNet, Valve-Net Profibus. Is your need to have shut-off, change over, and tank outlet configurations? Turn to our experts for help in selecting the correct valve set up for your process needs.
APV HEAT EXCHANGERS - DO YOU HAVE STRONG DEMANDS FOR CLEANABILITY?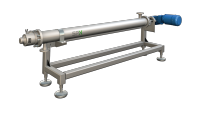 Sanitary applications represent a unique set of requirements to solve the job and live up to the strong demands for cleanability, accessability and product integrity. SPX FLOW's sanitary portfolio is known for its high quality and value adding features. With a wide range of frame compression technologies, connection types and sanitary accessories for increased cleanability, APV and AxFlow can cover all heat transfer needs in the sanitary market place. Having invented plate heat exchangers in 1923, APV continue to pioneer designs of this technology for effective use in the food, pharmaceutical and industrial markets. APV's large range of plate technologies give our customers optimal energy usage, minimise downtime, and so maximise profitability. Suitable for low and medium viscosity products, APV's plate heat exchangers are used for heating, cooling, condensing and evaporation applications.
The APV Scraped Surface Heat Exchangers are designed to operate under harsh conditions where other heat exchangers technologies can fail or cannot sustain operational efficiency over a longer period. Whether they are supposed to heat or cool medium and high viscous products with or without particles under sanitary conditions, these heat exchangers come in two basic configurations - horizontal and vertical. APV ParaTube (tube-in-tube heat exchangers) for food applications with particles and ability to handle high viscosity products. ParaTube heat exchangers can be supplied with either straight tubes or corrugated tubes. They all follow a similar construction format with a single tube or number of smaller tubes enclosed within an outer shell. They are available in the four configurations and can be manufactured as a fully-welded design.
APV MIXERS FOR FOOD APPLICATIONS
APV DARMIX+ IN-LINE MIXER is an industrial mixer series for mixing of butter and butter blends. Its intended for continuous mixing of different liquid combinations, mixing of high viscosity products and other substances and in-line emulsification to achieve homogeneous, liquid free and blended product. The mixing intensity (rpm) is controlled by a frequency converter. The mixer is an inline, multistage rotor/stator mixer. A number of stator rings with holes are placed in a cylinder pipe and the rotor wheels are placed between the stator rings. The rotor wheels comprise a number of pins, which rotate with the shaft. The products are led axially through the holes in the stator rings and at the same time the rotors create a tangential shear by which the products are blended / mixed.