Mouvex Product recovery
Mouvex® exccentric disc pumps features product-recovery capabilities that significantly reduce waste from hygienic food and beverage, pharmaceutical and cosmetic manufacturing while increasing ROI.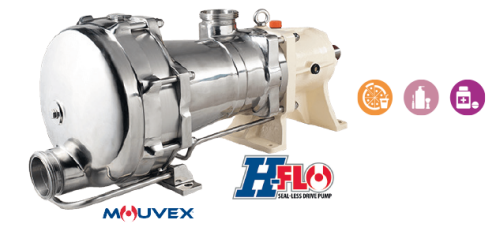 Product extraction/recycling is a matter that can have a significant impact on the profitability of
food
,
pharmaceutical
and cosmetics manufacturers. This applies from the simplest systems to entire automated factories and the profitability of entire company groups.
With increased profitability requirements, operators of these manufacturing facilities are forced to implement new ways to meet established production quotas and at the same time spend less money. For many, the simplest measure in this situation has been an increased focus on making their business more energy efficient, or "green" to use the increasingly popular language.
Click on the below link to read the full article.
Mouvex excenter disc pumps
Mouvex® Excenter disc pumps can be used in hygienic manufacturing in two ways, first as a normal process pump, then as a way to increase product recycling.
The result is less waste of critical raw materials and expensive finished products, resulting in a better result.