The definition of viscosity changes from industry to industry, the viscosity of individual liquids generally changes with temperature.
Here are the typical maximum viscosties of most common pump types.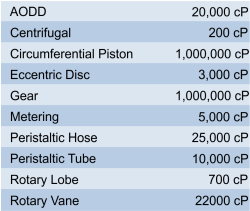 The secret to handling viscose fluids sucessfully is a wide range of pump types something that AxFlow has in abundance.These are supported by our Irish and international expertise and ability to measure fluid viscosities with our rheometer.
We are also able to supply systems that incorporate mechanical pump feeders and bridge breakers. 'System thinking' from AxFlow brings benefits whether you're planning a newbuild or evaluating your existing processes.