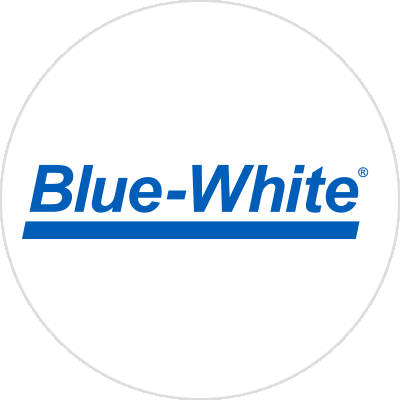 WHAT DO BLUE-WHITE INDUSTRIES MANUFACTURE
Blue-White are leading manufacturers of peristaltic dosing pumps and diaphragm dosing pumps.
Peristaltic Dosing pumps
Peristaltic pumps (hose or tube pumps) work using progressive squeezing action.
Blue- Whites Flex-A technology
The first letter indicated tubing material
The second letter indicates tube size, two of the same represents dual tube assembly
The "L" at the end of the code indicates a low pressure softer version of the tubing/
N = Flex-A- Prene® – An excellent material for most water treatment applications. Chemically resistant to 25% sodium hypochlorite, 50% Sulfuric acid, 30% fluosilicic Acid, Ferric Chloride, Alum and many others. Available in a wide stiffness range for both low and high pressure applications.
T= Flex-A-Chem® - Tubing materials consists of an outer Flex-A- Prene® jacket with an inner liner that is virtually unaffected by acids' salts' bases, ketones, alcohol. Available in medium stiffness for applications up to 50 PSI.
G=Flex-A- Thane® - This polyurethane material can be used with a variety of chemicals including water and oil based polymers, sodium hypochlorite, Alum, Ferric chloride, fuels, lubricants and many others. Available in a medium stiffness for applications up to 65 psi.
ADVANTAGES OF PERISTALTIC PUMPS
No loss of prime: Eliminate downtime and disruption in your process

No check-valves to clean and replace:

Less maintenance and lower cost-of-ownership

30ft (9.1m) of suction lift:

Reduce downtime with powerful suction lift capabilities.

Gentle low-shear pumping action:

Ideal for a low-shear sensitive product including flocculents
DIAPHRAGM DOSING PUMPS
Overcoming line pressure can be a challenge.
Those diaphragm pumps can accurately inject chemicals against high pressures.Diaphragm pumps work using pulsation. Liquid flows intermittently due to the alternation of suction and discharge.
ADVANTAGES OF DIAPHRAM METERING PUMPS
Low cost of ownership: Well maintained diaphragm metering pumps cost you less to operate over time

Energy efficient

:

Diaphragm pumps use more motor torque on the forward (power) stroke, but far less on the back stroke.

High pressure capabilitieS:

Overcoming line pressure is easier with properly sized diaphragm metering pumps.

Exclusive longer lasting diaphragm :

Blue-White diaphragm pumps equipped with patented DiaFlex diaphragms last the life of the pump
what makes blue-white industries special
Blue-White prides on cutting-edge technology, quality materials of construction, and excellent customer service since 1957. They are continuing the innovative approach: simplifying the chemical metering and fluid measuring process to give users peace of mind and invent new technologies that will expand their abilities, community, and world. Their worldwide network of factory authorized representatives, distributors, dealers, and warranty centres look forward to serving their customers.
WHY BUY BLUE-WHITE PUMPS FROM AXFLOW
Blue white industries are American manufacture founded in 1957 and is a market leader for metering, dosing peristaltic and diaphragm pumps, within the chemical and water industries. AxFlow GB stocks a range of peristaltic pumps and flow meters.
The compact Blue-White pro series- M hose dosing pump are widely used in chemical and water waste treatment industries. They are very accurate and so are extremely suitable for the dosing and injection of aggressive and viscous chemical.
The pump design ensures that the pump is self-priming. A maintained output of the pump, optimizes tool life and therefore a longer hose life. The "tube fail detection" is patented, and the pump will immediately stop if the hose breaks, the roller acts as a shut-off valve so that no harmful liquid will leak.
Blue White technical literature