Peristaltic pumps, commonly known as hose pumps or tube pumps depending their size are self-priming positive displacement pumps that can run dry, offer a very sensitive pumping action and can handle abrasive solids. The hose is the only component that comes into contact with the medium making material selection less complicated. Peristaltic pumps can be used to convey and dose liquids, including solids, gently and reliably.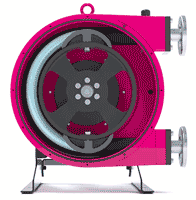 Seal-less design: Peristaltic pumps have no seals, thus avoiding issues such as leaks of corrosive chemicals.
Low maintenance costs: Generally the only part that will need replacing is the hoses or tubes.
Self priming: Peristaltic pumps have the ability to run dry without the need for costly repairs. The recovery of the hose or tube creates a powerful self-priming action and allows the pumps to move liquids containing entrapped air or that can offgas.
High suction lift: The powerful suction provided by the recovery of a re-enforced hose gives hose pumps suction lift capabilities up to 9.5m of water.
Abrasion resistant: Hose life is not related to a product's abrasive qualities. The hose only fails due to fatigue or chemical action.
Reversible: Peristaltic pumps are reversible and can be used to empty lines or clear blockages.
Where are peristaltic pumps used
Peristaltic pumps are the first choice for metering and pumping liquids in many different industries.

Some hose pumps can meter abrasive liquid mixtures such as milk of lime, ferric chloride and other flocculants in water treatment plants.

High-pressure hose pumps are used to feed filter presses in sewage treatment plants in order to dewater the sewage sludge.

Peristaltic pumps with hygiene certification meter colorants, flavors, dairy products and shear-sensitive media in food production
WHY BUY PERISTALTIC PUMPS FROM AXFLOW
AxFlow is the preeminent supplier of positive displacement pumps in the UK and has over 60 years' experience when it comes to peristaltic pumps.
AxFlow offers national support from its 5 technical service centres spread across the UK.
AxFlow offers 6 different ranges range of peristaltic pump including hose pumps for flows up to 72 m3/hr, smaller tube pumps and dosing pump models.
AxFlow stocks replacement hoses and tubes both in the UK and in its European Distribution Centre.