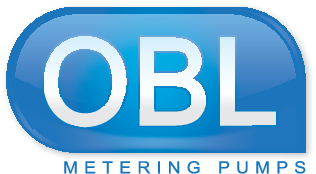 WHAT DO OBL MANUFACTURE
OBL manufactures mechanical diaphragm pumps, plunger pumps, hydraulic pumps and hydraulic diaphragm pumps. Click here to view on the pump ranges for the pump types mentioned before.
Plunger and diaphragm type metering pumps
OBL manufactures both plunger and diaphragm type metring pumps. The range offers solutions for small dosing up to flows of 3.5 m3/hr. Using both plastic or metallic wetted parts OBL pumps can be utilized with a wide range of liquids. They come in stainless steel, hastelloy and different contructions of plastic which include PP, PVC, PVDF and PTFE.
FEATURES:
OBL's unique (patented) mechanical diaphragm design ensures linearity between flow arte and percentage of stroke.
A wide range of control mechanisms are available.
Multiple pump arrangement is possible for most models.
PLUNGER METERING PUMPS
A comprehensive range of plunger metering pumps with ceramic plungers that comply with API 675 for high pressure applications. They can be used singularly or in multiple head units and feature a simple linear adjustment dial. They come in stainless steel, PVC,PVDF and Viton. In addition, these pumps are self-priming and suitable for pumping corrosive liquids.
FEATURES:
Simple and robust plunger metering pump
Low maintenance costs due to small number of components
Available with a stroke length actuator.
Single and multiple head arrangements possible.
Hydraulic Diaphragm pumps
Hydraulically actuated diaphragm pumps which offer the product containment of mechanical units and the high pressure capabilities of plunger type pumps. They feature built-in relief valves, air purge valves and mechanicallly actuated replenishing diaphragms that gurantee a constant hydraulic balance. These pumps come in stainless steel, PVC, PVDF, PTFE abd Viton. These same pumps are ideal for pumping corrosive liquids.
FEATURES:
Longer diaphragm life
Suited to aggressive fluids
Single and multiple head arrangements possible
Available with a range of actuators
Comply with API 675
Available with a double diaphragm construction.
Self- Priming
WHAT MAKES OBL SPECIAL
They are a passionate and trusted partner in dosing solutions. And their mission is to create value for our customers and employees by providing partnering solutions for critical water treatment applications. They put their customers first and are entrepreneurial alongside striving to discover innovative means of approach of pump solutions for their customers.
This vision along with the attentive listening to the voice of the market (driven by customers demanding applications) has led OBL to a leading position in today's metering industry.
Innovation has been combined with quality (ISO 9001: 2008 certified by RINA Service S.p.a.); quality is pursued in every single aspect: R&D is internal,all suppliers are Italians, accurately screened throughout all procurement steps, all pumps are assembled in OBL operation and individually tested by our expert staff.
why buy OBL PUMPS FROM AXFLOW
OBL has one of the largest metering pump portfolios' (plunger pumps, mechanical diaphragm pumps, hydraulic diaphragm pumps), combined with in-house designed and assembled state-of-the-art electrical actuators and polymer make-up units (both from dry and liquid status). OBL products are being used in basically all industrial applications (from carwash to off-shore platforms) in the most demanding duties and harshest environmental conditions. First class service and ready-on-the-shelf spare parts availability, together with a large distributors' network, guarantees 24/7 and worldwide presence.