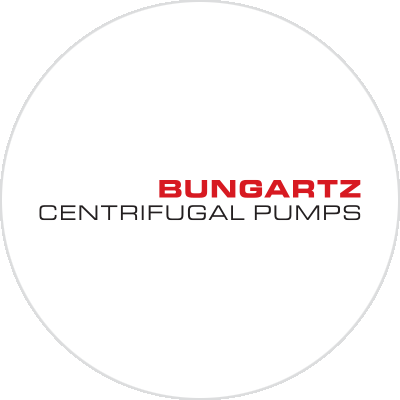 what do bungartz manufacture
AxFlow supplies Bungartz self-regulating pumps. These centrifugal pumps of the type V-AN are designed to cope with all possible cases. Without difficulty they can adjust to fit variable inlet flow rates and moreover in a self-regulating manner. Hence they are ready for each task. Their NPSH value is almost zero. By this property they operate free of cavitation, even if the vapour pressure in the suction container is attained. As far as the shaft seal is concerned, the V-AN excels by using a hydrodynamic seal as the primary seal. With the secondary seal the pumps demonstrate their flexibility. Here a packed gland, double mechanical seal, double seal expeller or magnetic drive can be used depending on the pumping medium.
APPLICATION AREAS
– media at boiling point
– fluctuating inlet flow rates
– gas-containing liquids
– drainage of residue in containers, e.g. tankers
– delivery and collection of condensates
– vacuum filters
– centrifuges
– distillation columns
– evaporation plants
– waste containers
ADVANTAGES
– no regulation is required
– height reduction
– no suction vessels are required
– self-regulating
– self-ventilating
– safe to run dry
– reliable
– reduction of plant costs
what makes bungartz special
In order that Bungartz's technically excellent products maintain the high quality, they leave nothing to chance. They prefer to revert the experience gained over decades, deep know-how, constant further development and distinctive pioneering spirit. Naturally, they also regularly go through a complex inspection by means of a quality management system. The result: the certification ISO 9001.
WHY BUY BUNGARTZ PUMPS FROM AXFLOW
Bungartz are a specialist pump manufacturer who developed the Hydrodynamic/expeller sealing principal. Now better known for the AN range of self regulation pumps which eliminate need for level control instrumentation and can solve problems with applications with very poor suction conditions/low NPSHA. AxFlow GB provides the service to offer these pumps for our customers who are spceifically in need for self- regulating Bungartz pumps. Click here to watch the same pump in action.
Typical Applications:
Condensate extraction, vacuum filter discharges, Hot/Cold/weak and strong acids, salt manufacturing, slurries, single/dual/triple phase media, gas laden liquids, top and bottom road/rail tanker offloading.
Configurations:
Horizontal, Vertical, Cantilever shaft, Wet and dry well, Axial flow Hydrodynamic/mechanical seal/seal-less gland arrangements.
Range:
Flows to 1500 m3/hr, heads to 140m, temperatures to 300 degC, pressures to 40BarG.