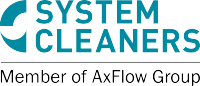 Your cleaning system must be reliable in order to maintain the levels of hygiene required to comply with the regulations for food safety. And it must be easy to operate even for the untrained worker.
Our products are developed with this in mind: The hygienic and intuitive design, the stainless-steel components and the high chemical resistance make our products as solid as they are easy to use. Switching from one cleaning function to another is performed with just one hand – making your cleaning process simple and systematic.
Only the best and strongest materials and components are used in our products so that you can rest assured that your cleaning equipment is able to withstand the tough environment and the rough handling that it is subjected to. We perform stress test and long-term tests on all products in our own test environments to ensure that we achieve high and consistent quality. Click here to view our brochure.
AUTOMATIC SATELLITE STATIONS

The satellite is made from high-quality materials in a hygienic design suitable for the processing environment. High chemical resistance of components makes it a solid and reliable cleaning unit.

It is connected to a supply of boosted water and prediluted or concentrated detergents, a compressed air supply, a 24V AC or DC control voltage and it is operated by a controller. The controller runs the cleaning sequences and controls the nozzle systems through the connected segment valves and determines when the segment valves open and close, and how long each sequence runs.

The unit has a built-in valve island that controls the internal valves of the unit and may be extended to facilitate control of external segments – up to 18 in total.

It performs rinsing, foam application and disinfection.*

The automatic satellite is available in two capacities: 150 liter/min and 200 liter/min. with the option of bypass for higher flow, and up to three chemical inlets for prediluted or concentrated chemicals. It requires connection to a boosted water supply from a System Cleaners main station, pump station or booster station.

Additionally, there are two versions of each capacity: AS 150/200 which is only automatic and ASM 150/200 which has an integrated manual satellite for manual cleaning (not concurrent). The satellite is therefore available in a wide range of variants.

The AS and ASM automatic satellites are wall-mounted and protected by a stainless-steel cabinet. It is applicable for decentral, central or hybrid chemical supply. Central and hybrid solutions require supply of prediluted detergents.

*Depending on the variant

SATELLITE STATIONS

System Cleaner's Manual stations are compact satellite stations cabable of performing a range of rinsing and foam applications. All systems offer excellent, simple solutions a range of detergent options with either central or decentral chemical supplies.

Pressure range: 3-8 bar or 10-25 bar.

MOBILE FOAMERS

The foamer is perfect for sanitizing surfaces in between the more thorough cleaning cycles.

With the F1 foamer you can apply a layer of foam to be rinsed off with a regular water hose. It is available with compressed air connection or with a foam booster if there is no supply of compressed air. It is applicable within a pressure range of 3-8 bar and can administer one foam product. It requires connection to mains water supply.

A ⅝" outlet hose (15 m) is included as well as a foam nozzle (air) or foam booster (no air).
For more information contact Declan Wray
Mobile: 07553 186 452 email: declan.wray@axflow.co.uk