Wilden Repair Kits
Wilden Wet and Air Repair Kits for AODD pumps have been designed to help properly maintain the health and performance of your Wilden pump.
Containing only genuine Wilden parts, each Wet Kit and Air Kit can be applied to many different models to significantly reduce the number of kits required to cover Wilden's products and simplify ordering.
Wet Kits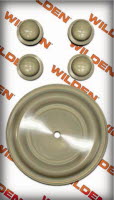 The Wet Kit replaces the Elastomer Kit and includes only elastomers located on the wet side of the pump such as diaphragms, balls, seats, gaskets and o-rings (if required). No air side/ADS parts are included in the Wet Kit to eliminate part duplication.
Air Kit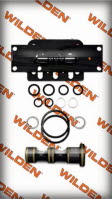 The Air Kit replaces the ADS Kit and contains a reduced number of parts, eliminating the air valve assembly and muffler plate. All Air Kits will now include the air valve spool and are available only in the Air Kit*. All Air Kits are vacuum-sealed to maintain parts integrity and cleanliness.