How Vapour Recovery Systems Work
Vapour recovery systems work on a very simple principle and involve two phases.
In order to ensure safe handling and optimum product recovery, Hall International uses AxFlow vapour and liquid transfer systems for offloading tankers and for storage duties. It makes sound economic sense to make sure that any product that remains in a tanker or bulk container is extracted for recycling and storage for future use. Also, if a tanker is to be used for another product, it needs to be thoroughly cleaned to prevent cross-contamination it is essential that the tanker is completely free of any liquid and vapour before cleaning can commence.
The element of safety and recovery also extends to process storage vessels when the contents need to be transferred or for large storage tanks when maintenance is required.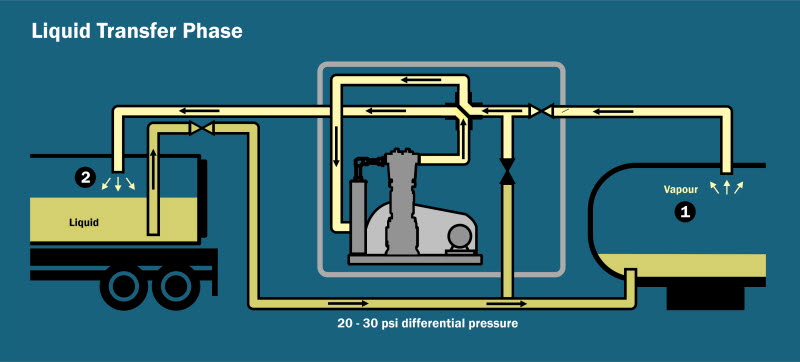 The compressor takes the vapours from the empty receiver tank 1 and compresses them into the delivery tank 2 thereby pushing the liquid out and into the receiver tank.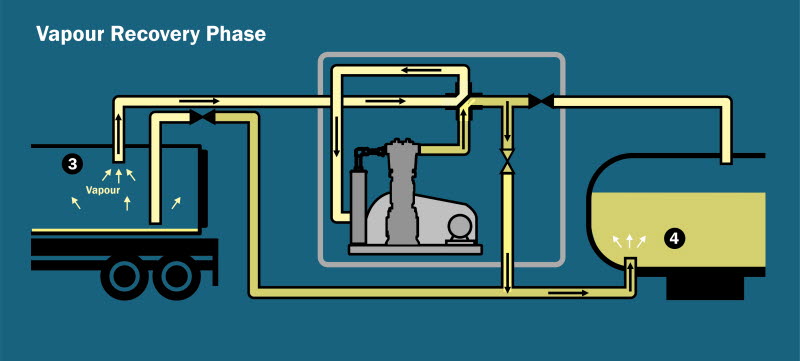 The compressor sucks the vapours from the empty delivery tank 3 and compresses it into into the receiver tank 4 thereby completely emptying the delivery tank.