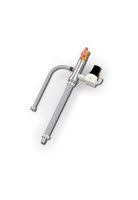 The foamer is perfect for sanitizing surfaces in between the more thorough cleaning cycles.
With the F1 foamer you can apply a layer of foam to be rinsed off with a regular water hose. It is available with compressed air connection or with a foam booster if there is no supply of compressed air. It is applicable within a pressure range of 3-8 bar and can administer one foam product. It requires connection to mains water supply.
A ⅝" outlet hose (15 m) is included as well as a foam nozzle (air) or foam booster (no air).