How to maintain progressive cavity pumps
It is ideal to check a progressive cavity pump for wear after roughly 700-1000 operating hours. The frequency of subsequent inspections is determined in relation to the degree of wear noted. It is suggested that the interval between inspections must however, not surpass 1500 operating hours.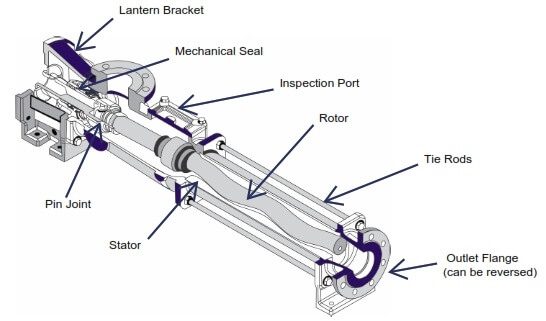 If the pump needs to be opened to do this, ensure that the pump and motor are switched off and cannot be turned on accidently (e.g. by removing the fuse). Periodical standstill to allow for cleaning during operation depends on the medium and type of operation.
The Pump can be cleaned:
Through the cleaning ports in the pump housing
Manually after dismantling the PC pump
The rotating parts of a pump tend to wear down overtime, which means that they typically need to either be exchanged or readjusted. Technological innovations haved allowed for quicker and easier access to the rotor and stator unit and even ways to readjust them for increased flow.
However, pumps with feed hoppers pose a unique challenge. Maintenance on such pumps tends to be rather complex and time consuming as a result of the valves and hoppers obstructing access to the pump.
In order to mitigate this problem, PC pump manufacturers have designed a range of methods to access drive side along with rotor side joints and parts. One solution is to make part of the casing movable so that seals and even the drive are quickly installed or removed on-site. With access to both the front and back areas of the pump, PC pump users have access to two main technologies for exposing components for maintenance without having to disassemble pipework, valves or the feed hopper.
Running Dry:
Progressive Cavity Pumps cannot be run dry. However, dry run protection devices for instance, stator temperature probes, can be utilised as well as special sealing configurations which are able to mitigate pump faults from dry-running.