Having established the nature of the medium, it is necessary to consider other parameters including, delivery volume and pressure, temperature, flow characteristics, vapour pressure, solids content, corrosiveness, toxicity and hygiene. The correct materials are selected according to the properties of the pumped medium. In the food and beverage industries the choice of materials is particularly important, as compliance with EHEDG, FDA and 3A regulations is a basic requirement.
Pumping media containing substantially large solids is a common problem that has to be faced at various stages of the food processing cycle. Either the solids need to be pumped without bruising, or transferred without damaging the pump itself. Within food processing the pump technologies that have a very high profile are rotary piston, rotary lobe and air-operated double diaphragm pumps. However, the centrifugal pump must not be overlooked, for it offers considerable advantages in terms of operating simplicity, energy efficiency, it can handle low viscosity liquids and it provides high flowrates.
Centrifugal pump operating principle
The centrifugal pump operates by converting input power into kinetic energy in the liquid by the impeller. The liquid enters the pump through the centre of the impeller and is forced to the outer edges by the rotational speed of the impeller from where it leaves the pump. The process creates a vacuum at the centre of the impeller which continuously pulls in more liquid into the pump housing.
There are three designs of impeller – closed, semi-open and fully open – and the choice of which to specify is largely dictated by the medium to be pumped. Semi-open and open type impellers are best suited to hygienic applications because they are easy to clean and accommodate CIP cleaning regimes. Furthermore, cleaning is further simplified if the pump has its shaft sealing arrangement outside the product area.
Waukesha Cherry Burrell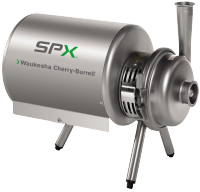 Waukesha Cherry Burrell's family of EHEDG and 3A qualified centrifugal sanitary pumps - the Universal Centrifugal (UC) series – adress applications in food processing. Applications within the dairy produce industry for which this pump type is suited include cream, milk, milk concentrate, raw milk, skimmed milk and whey concentrate. Waukesha is probably best known in the food and beverage industries for its Universal 2 positive displacement hygienic rotary piston pump where its shear sensitive qualities for handling yogurt and also the ability to pump fruit particulates without damaging are in much demand.
For dairy industry applications, Tony Peters considers that of all the UC series pumps, the most appropriate is the UCa Aseptic model. "This model has been designed specifically to accommodate modern food and beverage processes," comments Tony Peters. "Its double mechanical seals, double 'O' ring sealing of the pump housing and aseptic components are fitted for sterile flushing. This ensures a completely sterile production process. Furthermore, it has been designed for installations that require steam sterilisation with temperatures up to 150ºC, and barrier media at pressures up 5 bar (7u bar if cold) can be used. Even with this capability, the UCa still retains the basic construction of the standard modular design."