CUSTOMER: Waterschap Vallei en Veluwe
LOCATION: Elburg, (NL)
APPLICATION: Wastewater
PRODUCTS: Munchers & grinders
SOLUTION: NOV Mono Muncher
Renewed Energy
Clean water is important for the health of people and nature. The sewage treatment plants (WWTPs) of Waterschap Vallei en Veluwe are used to purify the sewage water before returning it to nature. The purification of sewage not only costs money and energy, it also yields something. For example, biogas. This is made by fermenting the sludge that remains after purifying sewage water. The biogas generates energy for the purification process and supplies heat to surrounding residential areas.

Unknown composition of sludge
In addition to the community's own sewage sludge, external sludge is also processed at the sewage treatment plants in Harderwijk and Elburg (the Netherlands). This external sludge is supplied in tank trucks and is pumped using air pressure to the treatment plant and further treated there. The composition of external sludge is not always known. Solids in external sludge, especially fibrous materials, can get caught in the pipes and block them. Cutting these solid parts with a muncher,
prevents blockage of the pipes.

"In Elburg we used to work with fast-running munchers. The problem, however, is that these fast-running grinders cannot process solid and fibrous materials sufficiently and we then experience problems and wear, which resulted in a defective grinder last Tuesday, " tells Mr. Jacob Witter, maintenance project coordinator at Waterschap Vallei en Veluwe.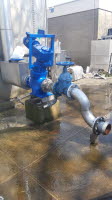 The intake point for external sludge, at Elburg WWTP, with the new NOV Mono TR Muncher.
AxFlow Product Manager Mono, Mr. Erick Harmsen continues: "The water board sent me an email on Tuesday afternoon whether we could urgently offer an alternative with one of our slow-running munchers from the Muncher series by NOV Mono. We have these grinders and parts in stock in our own distribution center, so we were able to solve this within 24 hours. "

"At our location in Harderwijk we have been running with NOV Mono Munchers from AxFlow for some time. We have good experience with these slow-running grinders. We now opt for standardization and at AxFlow we can count on fast delivery directly from stock, " Jacob Witter concludes.

Mr. Witter ordered the Muncher the next morning and collected it directly from the AxFlow distribution center in Lelystad to be back in operation as soon as possible.
Thanks to the large stock of pumps, munchers and spare parts in the AxFlow distribution center, customers can count on immediate deliveries and fast service for their critical processes even during times of crisis and lockdowns.